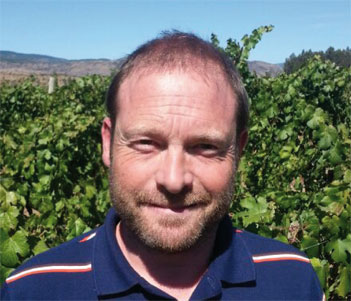 Didier Debono
Winemaker, Alta Vista & Altamana
Didier Debono discovered the world of wine at a young age by walking through the family's vineyards in Cognac. Wine has since become a lifelong passion.
In 1995, Didier graduated from Bordeaux University with a degree in Oenology.  In the same year, he vinified his first vintage in Bordeaux. In 1998, Didier went to Chile for a few months to make wines in several areas and discovered the great wines from the new world.  In 1999, the d'Aulan family entrusted him with winemaking at their Chateau Sansonnet (now a classified growth of Saint Emilion). From 2000 to 2001, he consulted at Chateau Clinet and Chateau Croix du Casse in Pomerol with Jean Michel Arcaute, one of the most respected winemakers in Bordeaux. He also advised the d'Aulan Family with the acquisition of Chateau Dereszla (first classified growth in Tokay, Hungary) during this time.
In 2002, the d'Aulan family selected Didier to become Head Winemaker of their prestigious Alta Vista winery in Mendoza, Argentina. He welcomed the opportunity to take part in Patrick d'Aulan's vision of creating the first Single Vineyard Malbec wines from Argentina.  Since 2002, despite pursuing successful projects outside of Argentina, including the launch of Chilean winery Altamana as a partnership with Patrick d'Aulan, Didier has remained intricately involved in all aspects of winemaking at Alta Vista.